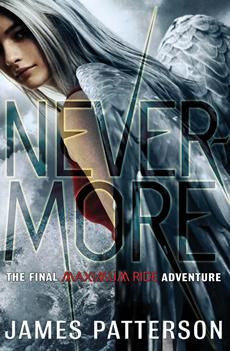 PLEASE DO NOT POST THIS YET! REPEAT, DO NOT POST THIS!
I'm excited to announce A Splatter of Ink's first ever giveaway! In honor of those who made our followership to the golden number 100, we are giving away the last book of James Patterson's bestselling Maximum Ride series:
Nevermore!
One last chance...
For Max, Fang, Angel, Iggy, Nudge, and Gazzy.
Before it all ends.

Are you ready for the final chapter? Are you ready for the ultimate flight? Because THIS IS IT. One last incredible, explosive adventure with an astonishing ending that no one could have seen coming.
One lucky winner will get a hardcover copy of the eighth book!
Official Rules:
*Entrant must be 13 Years and Older.
*Open to the U.S.A. Only.
*Must be Following our blog, via GFC
*Giveaway ends September 1st, 2012 at 12:01 AM
*Winner will be notified by email and must respond in 48 hours to receive the prize. If the time slot has passed and winner has not yet responded, another winner will be chosen.
*Please DO NOT LEAVE ADDRESS OR PERSONAL INFORMATION IN THE COMMENTS. This is in order to protect your privacy.