Heya, Book Bloggers! Welcome to Feature & Follow Friday, which is hosted by the ever lovely Parajunkee's View and Alison Can Read. What's the question this time??
Q: What blogger inspires you?
This is an easy answer-my favorite book blogger of all time has always been (drum roll, please) Jessica from Confessions of a Bookaholic!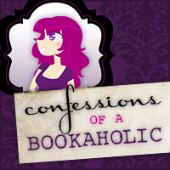 Her site is so beautiful and professional, and though she has a big audience (4000+ followers!) and probably an even bigger bookshelf bursting with ARC's, she still manages to tuck in quality reviews between guest posts, author interviews, and giveaways. She also takes the time to reply to her comments which we small-time book bloggers all love!!!
What's your blogger role model????