Waiting On Wednesday @ A Splatter of Ink, created by the wonderful Breaking The Spine Book Blog!
When Barry Fairweather dies unexpectedly in his early forties, the little town of Pagford is left in shock.
Pagford is, seemingly, an English idyll, with a cobbled market square and an ancient abbey, but what lies behind the pretty façade is a town at war.
Rich at war with poor, teenagers at war with their parents, wives at war with their husbands, teachers at war with their pupils…Pagford is not what it first seems.
And the empty seat left by Barry on the parish council soon becomes the catalyst for the biggest war the town has yet seen. Who will triumph in an election fraught with passion, duplicity and unexpected revelations?
Blackly comic, thought-provoking and constantly surprising, The Casual Vacancy is J.K. Rowling's first novel for adults.
WHY I'M WAITING ON IT: If you need explaining, I'm just gonna kick you outta here. Though Rowling's new book is for adults, there is no way her fans are going to pass on this. September 27th, here I come! (But if you do need a reason, the Dark Lord has some pretty nice arguments: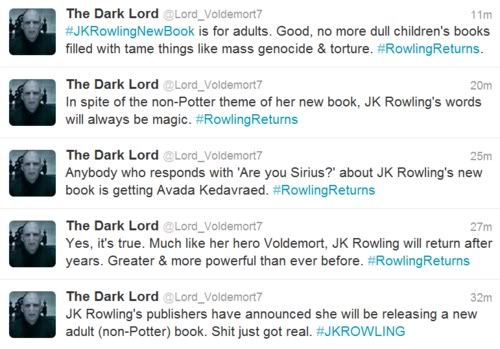 Mara Dyer once believed she could run from her past.
She used to think her problems were all in her head.
She couldn't imagine that after everything she's been through, the boy she loves would still be keeping secrets.
In this gripping sequel to The Unbecoming of Mara Dyer, the truth evolves and choices prove deadly. What will become of Mara Dyer next?
WHY I'M WAITING ON IT: Hello? This is Mara Dyer we're talking about. And that cover is goooorgeous. October 23rd, 2012.
So what are you waiting on this wonderful Wednesday? Let us know! We luuuvvv your comments.